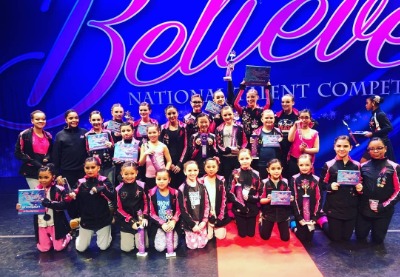 Whether you seek a professional career in dance or just want to make friends and have fun, we are here to help you accomplish your dreams. At Shannon Rush Dance, our goal is to nurture and motivate children in a warm and friendly atmosphere. We have instructed many of the area's finest dancers for over 40 years. Our instructors are professional choreographers holding many degrees, certifications, and awards.

Join our Team!!
Is you dancer interested in taking more classes and a fun team experience? Ask us about our competitive dance team! Check out the information below for details! Send us an email to set up a phone call for more information about our competition team! Auditions for the Competition Teams were held on Saturday, June 3, 2023.
Please contact Ms. Amanda for more information and if your dancer is interested in auditioning! *All auditions will be held at the Wheaton location. *Current Company members are required to re-audition for our 2023-2024 dance season.
Ask us about our new Hip Hop Competition Team for ages 9 and up!!! Auditions for Hip-Hop were held on June 5, 2023.


DANCE COMPANY CLASSES

Placement in Company is by audition only. Company dancers learn 2 routines, usually a jazz and a lyrical, and perform at local events and at competitions where they compete with other dancers from around the region!
Expectations for Company Dancers:
All company students are required to take a jazz class, a ballet class (or combination class), a technique class, and their company class each week. Participation in Company is a challenging and rewarding experience for students who love dance!
Competitions:
Company classes participate in 6 - 10 competitions during the year. Competitions are generally in February-May and dates will be provided in advance. Dancers must keep the entire weekend open, because we do not know exact performance times or dates (Fri., Sat., Sun.) until the week before.
Competitions may take up an entire day, depending on what time performances are scheduled. The Studios have no control over the schedule. Call times for performances may be as early as 5:30 am or as late as 9:00 pm.
Competitions are held at area high schools and other performance venues in Maryland and Virginia. Locations are usually within an hour's drive of the studio.
Competition Fees and Other Costs:
In addition to recital costumes for their regular classes, company dancers will have 2 costumes. Expect to pay $90 - $150 for each costume. Additional shoes, tights, and accessories may be needed.
Registration fees for competitions average about $70-$90 per routine. Company classes will perform 2 routines at each competition. Participation in Company costs approximately $700-$1,000 in additional costume and competition fees over the course of the year.
Company dancers may have the option of purchasing a studio jacket for around $125.00.
Additional Rehearsals and Performances:
Company classes may perform at various local events. Additional rehearsals may be held during the year to prepare for competitions or other performances.
Dance Company classes are a great opportunity for dancers to develop their performance skills!
Please contact Ms.Amanda directly if you are interested in joining one of our teams!!
amanda90srd@gmail.com